Group sex and the math of political correctness
The greatest challenge in group sex is probably the logistics of consent.
It is a central tenet of mature societies that in all sexual encounters everyone must approve of everyone else. Therefore, the logistics of consent grows quadratically with the number of participants. We require 0 approvals for masturbation, 2 approvals for couples, 6 approvals for threesomes and so on, that is, N(N-1) one on one approvals must be issued.
If a single approval is pending, the whole thing must be canceled or postponed. "No" means "No"; "Undecided" means "No" as well. In my experience, going past a small number of approvals takes considerable effort.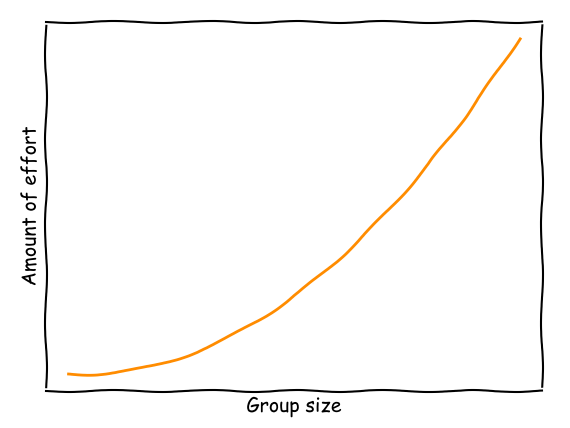 Now that I have your attention with sex, I'd like to make a point of how political correctness is essentially similar.
Given a meeting of N participants, to make sure that no one is offended by anyone else's point of view, one should previously have each possible pairing exchange lists of interests and taboos, so as to eliminate any sensitive subjects. Thus, we have N(N-1) interactions. When N=1, that's easy – a monologue is the political equivalent to masturbation. For other values of N, way too much work needs to get done. If there was a moderator, he could inquire the N participants, write down a list of taboos, eliminate redundant items, and confirm that the final taboo assortment was all-inclusive. This would involve 2N interactions, instead of N(N-1), and a progression from self-censorship to organized censorship.
Now, the bottom line is: group sex doesn't scale. And it doesn't have to! 1 is boring, 2 is fun, 3 is exquisite, 4 is even... which is probably enough for 99% of the world's population. Political correctness doesn't scale either, for the exact same reason. In this case, however, we have a social problem: discussion groups limited to 4 people with a predisposition for agreement can't be conceived of as a sound implementation strategy for free speech.
If we lust for political correctness, there are two possible outcomes: either people refrain from speaking altogether, or the urge to avoid offense will turn their discourse into a kind of neo-newspeak gradually deprived of meaning as the group size grows. If "designed by committee" public discourse runs the risk of becoming irrelevant.
In short, thick skin scales better than political correctness.